Jurassic Classics from Lucien Aviet: Caveau de Bacchus' under the radar stunners
Lucien (right) with son Vincent in front of their large Alsatian foudrès. Lucien passed away in 2021 but Vincent began working with his father in the 1990s and has been making the wines for some time now.
The popularity of the Jura's incredibly delicious wines have increased recently. Names like Overnoy, Bruyere-Houillon, Puffeney (now Pelican), Ganevat, and Domaine L'Octavin (with their very Instagram-friendly cartoon gnome labels) have dominated the Jura's natural wine scene. With this kind of attention, prices and scarcity also increase, so I always feel fortunate when I find winemakers who have somehow flown under the radar despite making wines that are similarly moving. Winemakers like Lucien Aviet.
Playfully referred to as 'Bacchus' in his village, Lucien began making wine in 1960 alongside Pierre Overnoy and followed similar principles, including a minimal approach to the farming of his grapes and letting naturally occurring yeasts from the vineyards jumpstart the fermentation process. Lucien was a true champion of the native Jura grape Trousseau. He passed away in 2021, leaving the estate in his son Vincent's capable hands.
One of the reasons the wines have flown under the radar is that 95% were sold from the Aviet's cellar door to local clients. They are still not imported in any great quantity but we have some back vintages of Trousseau and Melon a Queue Rouge available now and trust me, they satisfy the desires of any Jura freak.
The Jura region makes only 0.2% of France's total wine production. Despite this – or maybe because of this scarcity – it is many-a wine lovers' favorite regions to explore. Many of Jura's vignerons have been essentially making natural wine for decades. Besides being a bit of a backwater of eastern Alpine France, many locals could not afford the treatments and chemicals taking the rest of the country by storm, so they continued making the wines the way they always had. This meant focusing on maintaining healthy fruit and vineyard health, and relying on native yeasts for fermentation. The remoteness of the region allowed Jura wines to 'stay weird', with oxidative wines like vin jaune and unique grapes like Poulsard, Trousseau, and Savagnin.
Lucien Aviet comes from a farming family and after returning from the military he took over the family farm in the early 1960s and began making wine from their grapes instead of selling them to the cooperative. Over the years he built up a reputation for making some of the most age-worthy and classic expressions of the Jura's distinct varieties and styles. Despite his kinship with Overnoy, the wines are closer to Puffeney in style and poise. His son Vincent has been making the wines for a decade or more now, continuing the effort to make wines in a manner he and his father saw as authentic, traditional Jura.
They are not wild and 'natty' but they tell the story of the Jura, its history, and their unique vines in a way that is profound. And delicious. Authentic is a slippery term but I'm ok using that with the wines of Lucien and Vincent. If you want the real Jura, look no further.
Cheers,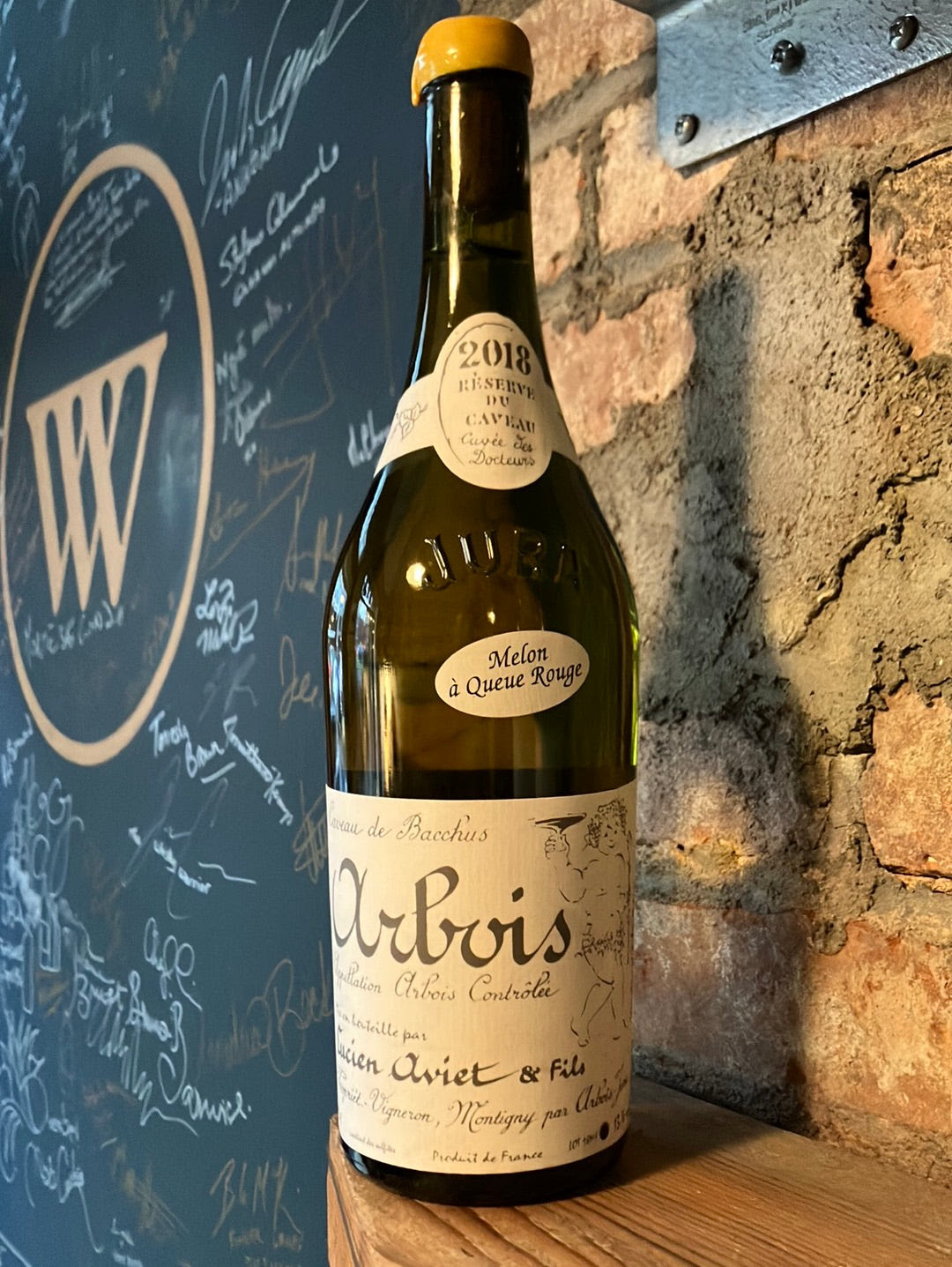 Le Caveau de Bacchus (Lucien Aviet) Melon a Queue Rouge Blanc 2018
Melon a Queue Rouge is a specific subtype of Chardonnay from the Jura region named for the red stalks on the vines. This is fermented and aged in the large Alsatian foudrès the Aviet family has used for decades. The fragrance of white flowers, fresh lemon peel, hazelnuts, and cream flow from the glass. Notes of caramel, tangy lactic cream, and salty minerality are held together with ripping acidity and crunchy, stony texture. Drink now or age for 5-10 years. JH
Le Caveau de Bacchus (Lucien Aviet) 'Rosiere' Trousseau 2017
This is such a lovely example of luscious Jura Trousseau, from one of the best vineyards in the region. Planted on eroded limestone with marl at 300-400m of elevation, west-facing. The little bit of extra bottle aging has allowed the wine to integrate extremely well. The nose and palate are complex yet beautiful. Ethereal aromas of rosewater, a bit of black pepper, and chalky minerality. On the palate I tasted tart cherry, a bit of fresh cracked pepper, and deep purple plum. Wild, floral notes are complemeted by elegant layers of umami. This vintage has great fresh acidity, soft tannins, and herbal complexity. An impressive, satisfying, benchmark Trousseau. Drink now or age 5-10 years. JH
---